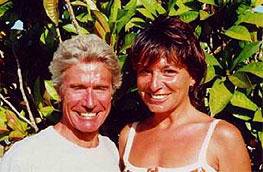 Captain Didier ALPHEN - Skipper - Guide
He gained his marine experience from his four years trip in Martinique, Guadeloupe, the Grenadines, the virgin islands, Cuba, Tobago, Trinidad, and Los Roques.
He's also been crossing aboard a maxi catamaran for a couple of years. Covering a distance of more than 60,000 nautical miles aboard sailing boats.
He has passion for sea and the natural beauty of Polynesian lagoons that he would love to share. He is also a botany enthusiast and a fly fishing expert.
Aside from his great marine experience, Didier is friendly and discreet hence, the guests are assured of well-mannered and trustworthy crew.
Pauline BARBAT - Hostess - Cook
Pauline and Didier share the same passion for travelling. She also had exceptional background as hostess-cook for many years aboard a 25 m maxi yacht in the Mediteranean sea.
Guests will surely appreciate her hospitality skills. As a well-experienced crew, she will be pleased to share her knowledge about pearl culture and polynesian dances.
Pauline and Didier have been together for 15 years making them as a great team of professionals.
Therefore, aside from a wonderful cruise, guests will also gain valuable knowledge about the paradise island and its inhabitants.
Sailor
Didier and Pauline are accompanied by a sailor on each cruise. So, guests will be guaranteed with three staff crew for their highest comfort and remarkable experience.