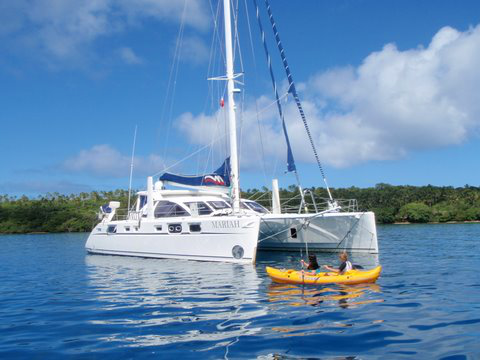 Mariah is the most luxurious catamaran of the Catana shipyard. Her size and durable building structure guarantees the highest standard for sailing and living.
The most inexperienced guests are assured of a secure and safe sailing experience.
Mariah is designed to accommodate six passengers. It is equipped with two double cabins on port side and one owner suite on starboard side. The owner suite occupies the whole starboard hull and features a desk, a huge bathroom and a luxurious bedroom.
All decorations are made from the finest woods carefully selected to display elegant touch suited to the guest's personality. The huge cockpit provides a comfortable feeling thus ideal for having a cocktail while enjoying the sunset.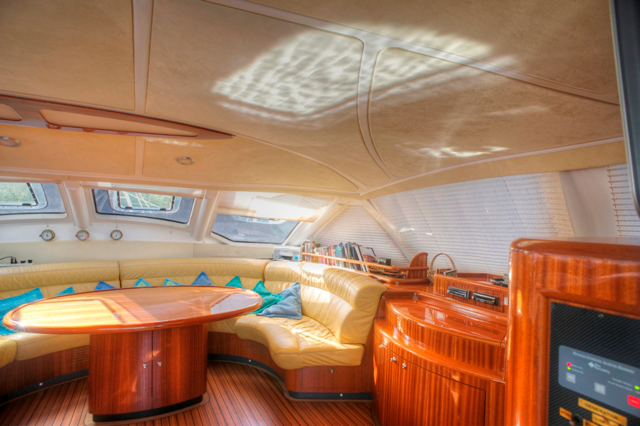 Mariah is an American flag catamaran. Jim, her owner, was successful in converting Mariah into a luxurious and cozy boat to stay. The French-American cooperation between Jim and his crew provides excellent service with a world-class standards and meticulous touch.
Mariah is mainly sailing in the Society archipelago namely, Bora Bora, Tahaa, Raiatea and Huahine. Sailing in Tuamotu is possible by request.
The duration and cruise schedule can be visualized according to the guest's needs and preferences. These may include swimming in crystal turquoise water among colorful tropical fishes, dancing with Manta rays, scuba diving with lemon sharks, visiting a botanical garden, experiencing the use of Tahitian plants, visiting a pearl farm in Huahine, having lunch on a Motu, or a sunset cocktail before having dinner at the Bloody Mary, or simply relaxing on a white sandy beach.
Sailing on a catamaran is the most convenient and practical way in exploring the Tahitian archipelagos because of the short time spent on hopping from one island to another. Guests are assured of a precious and amazing vacation that a man can dreamed of.
These amazing experiences can be completed as Pauline, the hostess, offers delicious cuisine.
Lastly, Mariah's crew is dedicated to give comfort, wonderful accommodation and remarkable experience the guest could ever have.
Looking forward to see you on board soon,
Manava and Maeva